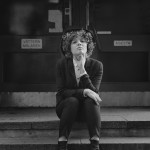 Amanda Bergman released her first full length Docks on February 26th. Docks  is written by Amanda and produced together with Petter Winnberg of Amason, Jonas Teglund and Petter Granberg, and Kristian Matsson, more commonly known as The Tallest Man on Earth. It will be released on Swedish label INGRID.
"For many years I've been waiting to find something that would feel like a starting point. Both musically and professionally. I've sort of felt as if I've been fumbling around quite a bit for a while. This record feels like a breaking point, a point of reference, a benchmark, and a catalyst for continuing and making more music", says Amanda Bergman. "Lyrically this record is about relationships and all their quirks and twists. It also centers around the fascination I have for the rollercoaster between one's total shortcomings and those golden moments when you succeed in behaving well."
SHOWS
2 sept Paradiso, Amsterdam (NL)
3 sept Into The Great Wide Open, Vlieland (NL)
4 sept Big Next Weekend – DOK, Gent (BE)
5 sept Rotown, Rotterdam (NL)
2 nov Merleyn, Nijmegen (NL)
3 nov Ekko, Utrecht (NL)
Check out the video for the new single Taxis below!